Disinfecting / Anti-microbial Treatment / Boston MA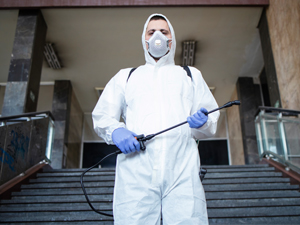 It is a time of great distress but we can help.
Everyone around the globe is concerned with Covid19 and wants to do everything possible to eliminate the spread of viruses. We offer a 3-step disinfectant and antimicrobial program for your commercial properties, gyms, office buildings, public spaces, retail stores, salons, condos and apartment buildings, buses, vans, vehicles, trains, hotels, and more.
OUR 3-STEP DISINFECTING PROCESS
3 steps to a safer work/living environment:
1st step: Spray and wipe touch points with an EPA-registered, hospital-grade disinfectant.
2nd step: Use state-of-the-art electrostatic fog sprayers to apply an EPA-registered, hospital-grade disinfectant. We utilize the latest technology cordless and hose-free equipment, so that no cords or hoses are dragged through the disinfecting area.
3rd step: Apply an EPA-registered, durable, antimicrobial coating that controls micro organisms without chemical poisons. Instead it relies on electrically charged particles that have a unique spike molecular structure. Using the opposite electrical charges, microbes are drawn into the barbs that pierce the cell walls destroying the organisms. These thorny structures are undetectable to the human touch.
We use equipment and chemicals made in the USA.